Federal NDP leaders travelled to Nova Scotia to meet with stakeholders and Nova Scotians to hear about issues and concerns in the province as part of the Federal NDP Caucus retreat in September.
The Caucus hosted a roundtable discussion to listen firsthand to healthcare workers and unions representing them about the Nova Scotian healthcare system.  SEIU Local 2 Vice-President Jackie Swaine was present at the gathering which was held at Hotel Halifax on Barrington Street.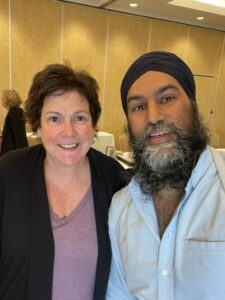 Canada's NDP leader Jagmeet Singh, MP Carol Hughes (Assistant Deputy Speaker and Chair of Committees of the Whole in the House; Algoma—Manitoulin—Kapuskasing), MP Don Davies (Critic – Health; Deputy Critic -Foreign Affairs; Deputy Critic – International Development; Vancouver Kingsway) and MP Rachel Blaney (Whip; Critic – Veterans Affairs; Seniors; Rural Economic Development; North Island—Powell River) hosted the event.
At the meet and greet, SEIU Local 2 Branch 902 executive officers Burdina Atkins, Connie Rodgerson and recently retired (as of October 1) Elaine Connelly spoke with Canada's NDP leader. They raised issues like physician and nurse shortages in the province, including the staggering number of people without a family physician. They also spoke to Singh about long-term care issues affecting the province, the need for Universal Pharmacare and paid sick days for workers.
"There are about 100,000 Nova Scotians that don't have a family doctor or nurse practitioner and its unacceptable," said Atkins, who herself is without a family doctor. "It's not what Canada is about. We're supposed to have health care for everyone, and we need a government that can help rectify this situation as soon as possible." Atkins, a teaching assistant for Tri-County Regional Centre for Education in Digby, became the Branch 902 President on October 1, 2022.
Singh conveyed the NDPs commitment to addressing these pressing issues and said these are country-wide issues.